Win a 1 Hour Social Media Training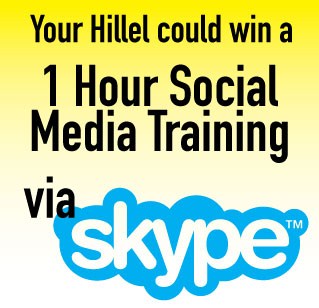 For my first blog giveaway, I want to give a 1 hour social media training to the Hillel thatВ receivesВ the most mentions in the comments of this post. I want to give back to where I was inspired to become a social media blogger. My first job out of college in 2010 was working for Towson Hillel as the Director of Engagement. I learned how to use social media to engage with students and manage an online community. Human interaction is a lot like social media; answer questions when people ask them, engage in exciting conversation and be true to yourself.
The Details
Two Hillels will win a free 1 hour social media training via Skype for students and/or staff. I have previously held a Google+ Hangout for Hillel Professionals where we talked social media strategy.
To earn entries:
– Post in the comments section of this post why your Hillel should win
– Follow @socially_gold on Twitter and tweet why you should win the free training with your Hillel's name as a hash tag. Ex. #TowsonHillel should win the 1 hour social media training with @socially_gold"
– Like SociallyGold on Facebook and post on the wall why your Hillel should win.
– Subscribe to SociallyGold's email updates
Update:
If your Hillel receives at least 18 comments on this post by 1.31.13 and why you should win, you will automatically earn a 1 hour free social media training.
Click the image below to download the flyer that you can post on social media and in your Hillel.
Good Luck!