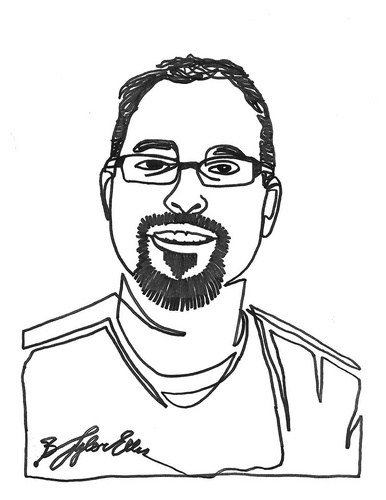 Why I Blog
By Jeremy Winaker

I am a senior staff member of the Kristol Hillel Center at the University of Delaware. I mentor Jewish students on campus and teach a university class, Biblical & Classical Literature, for the Chaiken Center for Jewish Studies. My position is funded by the Delaware Jewish community and a grant to Hillel from the Jim Joseph Foundation. I am also a fellow of Rabbis Without Borders. In other words, my work is connected; I started blogging to share my connection to the work. Behind the scenes of all my relationships, initiatives, events, classes, and teaching is my belief that Jewish values speak to and through lifelong learning: life is learning and learning is lived. My work takes many forms, and my work is singular in its purpose. I educate on behalf of the Jewish people. My blog helps me articulate this underlying drive.
For years, I hesitated to start a blog. I was not sure I would have the time. I was not sure I had a voice. And then, one day, I started. My first post was a reaction to an article by a friend. I felt deeply that he spoke truly to one part of the picture; I could speak to another. In a flurry, I wrote Ten Truths about Life Between Synagogues. I built the blog site around the idea that most of my future posts would be in reference to the class I teach and the work I do. It's called ??-er Ed (a play on higher education and on the Hebrew word for "life," pronounced kha'i). I supposed that my audience was Jewish professionals, university faculty and administrators, and educators generally. After a number of posts and drafts of posts, I can say that my blog is an essential component of my work. It is both the follow through and the invitation to learning with me. To my delight, friends, students, colleagues, stakeholders, and others have read my posts and shared with their friends. While I suppose I expected this broader audience, I think I expected my reach to be a way of connecting core constituents to the larger context of my work; I did not count on the connection running both ways. Most of the time, I write reflectively about my work to get to the depth behind the numbers and anecdotes normally shared with stakeholders. Given that the work means more to me, my blog is the way to articulate the deeper meaning of what I do and what I see on campus. It turns out that that meaning is relevant to more than one set of constituents; the Jewish people is bigger than any one college campus. Given my realization of this broader audience, I have changed my goals. Instead of writing every three weeks, I try to write in the moment of learning, often postponing a holiday post as I did with Yom Kippur at College opting to unpack Heavenly Ground Rules. Instead of worrying whether people are commenting on my blog site, I enjoy the conversations on Facebook and Twitter which I use to promote posts. While I did not set number goals for readers, shares, followers, or comments, I appreciate the statistics that allow me to see which posts have the greatest reach. My new goal is to establish a base readership and a base content that can be referenced and returned to. I am grateful to Adam Goldberg for the chance to write this blog post for a few reasons:
I get to reflect on the larger project of my blog.
I learned how to share blog posts to extend my reach.
I hope to model a way for Hillel, and others, to share successes and challenges in a deeper way.
After all, I believe in my work. My blog is one more tool to advance it, a tool I find to have increasing returns. I hope to see you there.