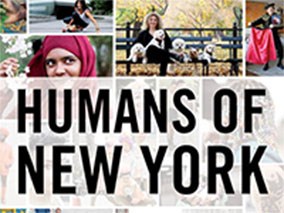 Humans of New York Social Media Lessons
I'm really upset that I haven't heard of Humans of New York (HONY) until today. A friend of mine mentioned they wanted to start a social media campaign inspired by what HONY is doing. I Googled it and found the above video. In honor of the
Facebook 10 Year Anniversary
, Facebook featured 10 stories and Humans of New York was one of them.
This below is taken from the about page of HONY
My name is Brandon and I began Humans of New York in the summer of 2010. HONY resulted from an idea that I had to construct a photographic census of New York City. I thought it would be really cool to create an exhaustive catalogue of the city's inhabitants, so I set out to photograph 10,000 New Yorkers and plot their photos on a map. I worked for several months with this goal in mind. But somewhere along the way, HONY began to take on a much different character. I started collecting quotes and short stories from the people I met, and began including these snippets alongside the photographs. Taken together, these portraits and captions became the subject of a vibrant blog, which over the past two years has gained a large daily following. With nearly one million collective followers on Facebook and Tumblr, HONY now provides a worldwide audience with glimpses into the lives of strangers in New York City.
The Humans of New York Facebook page has over 2.8 million fans, (at the time of posting) which is one of the highest fan counts on the social network. I was so touched at what Brandon is accomplishing that I had to share it with you.
What can you learn from Brandon and HONY?
. Take high quality photos. There is something so lovely about a high-resolution image.
. Use your funny side. The captions that follow each photo are interesting and really let you get to know the person that is photographed.
. Don't always be closing. The posts aren't trying to sell you on anything.
. Be short and sweet. Although Facebook allows 63,206 characters, you don't need to use them all.
. Get personal! The captions seem to come from the people in the photos. They're super real!
I could go on and on as to why this campaign is so amazing, but I'll let it speak for itself. You're welcome. Please share this post to highlight what Brandon and HONY are working on.