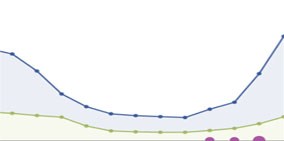 How to Increase Facebook Reach
In this post I'll show you an example of how to increase your Facebook Reach. Facebook reach is defined as "the number of unique people who have seen your post. Figures are for the first 28 days after a posts' publication only."
Facebook insights gives you a fabulous amount of information, but it is only as good as the user using it. To increase your Facebook reach, your goal should be to get as many shares, likes and comments on your posts as you can. The more you have of the "big 3," the higher your reach will be (hey that rhymes).
The reach (seen at the bottom left) of the below image will continue to grow until 28 days after it was posted. Ask Big Questions posted a fill in the blank post that earned 7 comments and a few shares. Individual user privacy settings dictate whether or not you can see a share. I've seen pages get stuck in broadcast mode, and they should be focused on conversation mode. Remember, when someone comments on, likes or shares your posts, it creates a story on their page.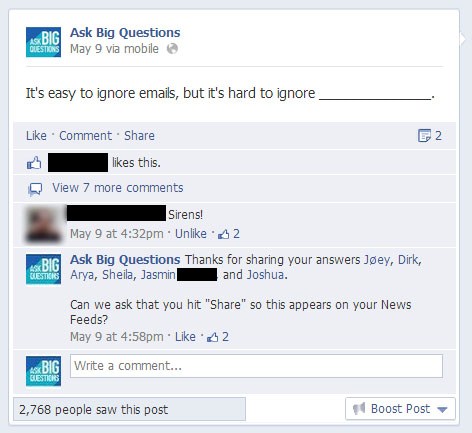 Again, depending on individual privacy settings, Facebook will show you who shared your posts and what they said. Click on the share icon to the right of "Like, Comment, Share" to see the below image.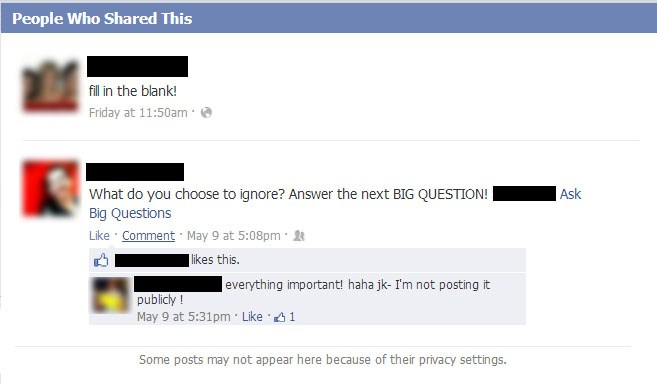 Facebook allows you to tag up to 6 people at a time. Simply ask your fans to do something and they'll do it. Below is a screenshot of Facebook Insights. You'll see that the above post has the highest Reach to date.
Want to Learn More?
2 Hour Live Social Media Course – May 26th at 10am EST

You can click on the post and it will show you a preview of what the post was. You can also click on "view post" and it will take you to the exact post.

Do you have a simple way to increase your Facebook Reach? Let us know in the comments.
Want to Learn More?
2 Hour Live Social Media Course – May 26th at 10am EST