Facebook Updates News Feed Algorithm for Pages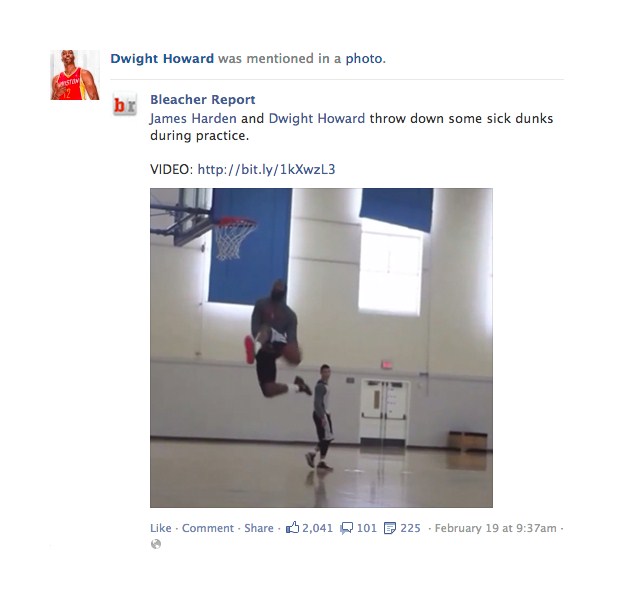 Facebook announced today (2/25/14) that they are changing their news feed algorithm for pages. What used to be known as Edge Rank had marketers very upset. The statistic was that only 16% of page fans would see a post. This announcement will hopefully turn those marketing frowns around.
[Tweet "This announcement will hopefully turn those marketing frowns around. "]
What is the Announcement?
Facebook explains it as "a new way for people to discover conversations around topics they've expressed interest in." When a page tags another page, fans of the tagged page are likely to see the post, even if they are not a fan of the page. In the example post above, fans of James Harden and Dwight Howard may see the post from Bleacher Report, even though they do not like Bleacher Report.
This will function the same way as when a friend tags me in a photo. My friends may see the photo even if they aren't friends with the person who tagged me.
What does this mean?
Now, if you tag Coca-Cola in your post, fans of the beverage company are likely to see your post, even if they don't already like your page. There are a few things to keep in mind…
This will only work for pages, not personal accounts
Facebook will take relevant content into account. Don't tag Coca-Cola if you aren't talking about soda pop
It's not suggested to tag Coca-Cola in every post in hopes of expanding your reach
What we don't know…
How well will this new algorithm will work?
Will Facebook Insights tell you how many fans of the other page saw your post?
Will this only work well for larger brands?
How others are reacting…
@Socially_Gold huge! potential for abuse is high, tho, as @sirenel pointed out to me today. you?

— Miriam Brosseau (@miriamjayne) February 25, 2014
@Socially_Gold if they allow small biz to take advantage. It will get spammy too if everyone does it. — Stephanie Clegg (@StephanieFrasco) February 25, 2014
@Socially_Gold @miriamjayne It might also encourage coordination/ communication big companies/ orgs.

— Irene L. Sandalow (@sirenel) February 25, 2014
What do you think?
The jury is still out as to whether or not this will help brands and/or hurt the user experience with spammy posts. Share your thoughts in the comments below.