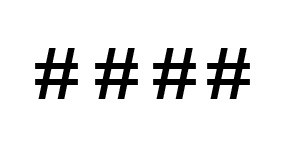 How to Use Facebook Hashtags
Up until recently, I have been anti-Facebook Hashtag. Facebook was late to the hashtag game and I thought that they didn't have any relevance on Facebook. For those who are unfamiliar, hashtags are ways to group conversations online. Adding the # symbol in front of a word or phrase makes it clickable. Hashtag functionality is available on Pinterest, Instagram, Twitter, LinkedIn and now Facebook.
The Facebook Hashtag is in its infancy and marketers are still learning how to use them. Below we'll cover a few tips on how to use hashtags on Facebook.
Use cases for Facebook Hashtags
. At an event so you an categorize pictures and in the future
. Group a conversation over one topic
. Arbitrarily use it to make a joke
. Encourage engagement and ask for #hashtag photo captions
. Musical artists are using them all over the place.
"You're the hottest hashtag in this place!"
Hashtags and Privacy
If privacy on Facebook is your concern, not to worry. Only posts designated as public in your profile will show globally. Your friends will be able to see any hashtags that you have used.
Where to insert Facebook hashtags
I recommend adding the hashtags at the bottom. Adding them in the middle of the post may encourage readers to click on the hashtag before reading the whole thing.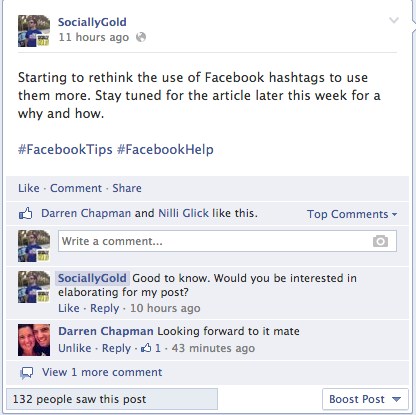 Related Searches
As a marketer, my goal is to get in front of as many eyes as possible. Facebook automatically ads related searches to the hashtag light box that comes up when clicked. I clicked on my own "#FacebookTips" hashtag and "#FacebookMarketing" showed up right beside it.
SociallyGold Tip:
Capitalize the first letter of each new word in your hashtag to make it easy to read. Hashtags will only be clickable with the word directly after the # symbol. Ex. #Facebook Tips would just be #Facebook. You should use #FacebookTips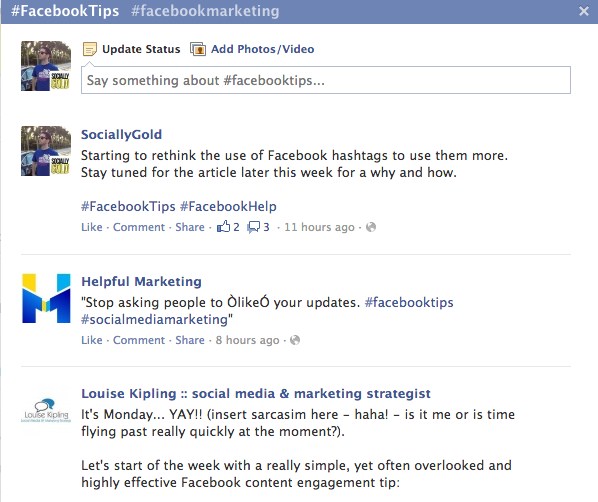 Hashtag URL Trick
Facebook creates a url for each hashtag so you don't need to click one to see what is being said about a topic. The URL is Facebook.com/hashtag/x. X is the hashtag or topic you'd like to read more about. You can use this trick to draw traffic to a particular hashtag.
Ex. Facebook.com/hashtag/oreos
Notice the related #chocolate hashtag right night #Oreos? This is a great way to gain exposure to eyes that would normally never see your content.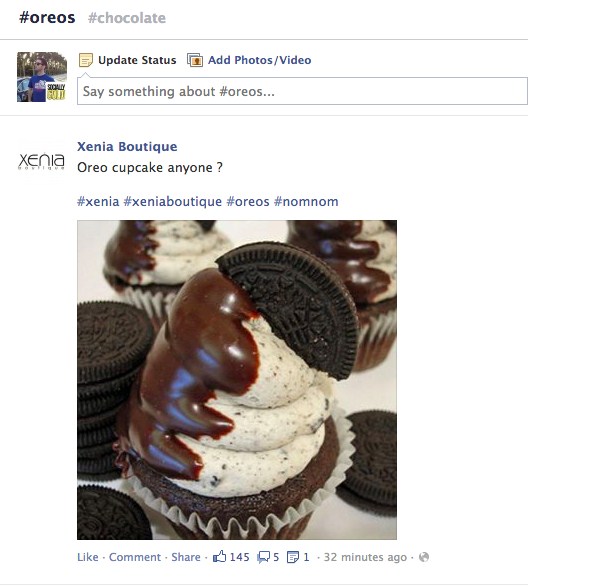 The Future of Facebook hashtags
I have a few predictions about hashtags and what we'll see from Facebook in the future.
. Targeted Ads on hashtags
. Analytics on hashtags
. Hashtags on mobile
What do you think of the Facebook Hashtag? Is it something you are going to play with?